The road to the top of Mt. Yaedake in Motobu town is usually not heavily traveled. Atop the mountain is a communications station run by the U.S. military. At one time it used to be a fully operational base but with the advent of technology and the need for personnel elsewhere assured that this once busy base was doomed for closure. These days the facility is visited sparingly by a Japanese civilian contractor who makes the rounds and assures that everything is operating as it should. Hence the road to the top of the mountain is usually not often used.
All of that of course changes every January and in to early February. The reason is of course all of the 7000 plus blossoming cherry trees that line both sides of the road all the way to the top. For a brief period of time, about three to four weeks, this serpentine road becomes one of the busiest roads in all of Okinawa.
Ohana mi or cherry blossom viewing is a big time in Japan. The very first blossoms of spring occur in Okinawa and the very first Cherry Blossom Festival in all of Japan happens right here on the slopes of Mt. Yaedake.
As you can probably guess from the photos posted here, this year "Mankai" or full bloom occured during the week of January 25th. Unfortunately the weather this time of year in the Goya Republic is terrible at worst and unpredictable at best. That didn't stop people from coming out in droves to travel this winding mountain road in this sleepy part of the island.
In fact the weather this day, though comfortably warm for the time of year, was supposed to be rainy. Of course in what occupation other than politics can you be wrong more than 50% of the time and still keep your job? If you guessed tlevision weather reporter, give yourself a gold star!
Early that morning the clouds looked as though the wrath of God was upon us but by 10am the skies had cleared and we had some beautiful blue skies in which we could contrast the bright pink blossoms of the Taiwanese Cherry Trees. Within a half hour of our arrival, the skies turned brooding again. When we left the mountain at 1pm, the skies were again clearing. On the way back home we experienced what is known locally as "kattabui" or as the Marines like to call it liquid sunshine. Yes, that means it rained while the sun was shining brightly upon us. Still we were able to get off som great shots and some awsome colors. If you have the chance, you have to come and see this. the blossoms here will last for only a few short weeks before giving way to the first greens of spring.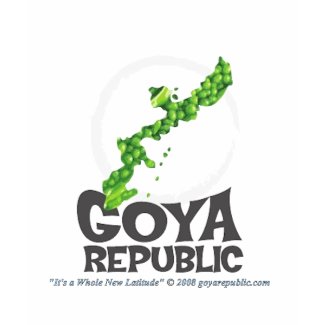 Goya Republic Bold Logo
by
graffkeith
Design a
personalized t shirt
On
zazzle.com
See more
Far East T-Shirts