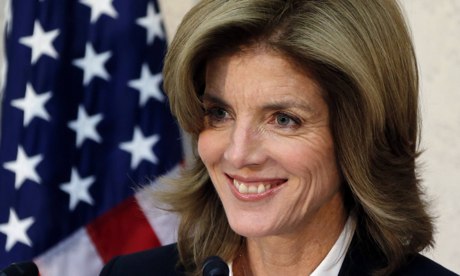 Caroline Kennedy has arrived in
Japan
to take up her position as American ambassador, bringing an assurance that she has the ear of the president.
"I bring greetings from President Obama," she said in a short statement after getting off the plane with her husband, Edwin Schlossberg, at Narita airport.
Japan hopes the 55-year-old daughter of President
John F Kennedy
will work closely with Barack Obama to tackle urgent US-Japan matters, analysts said.
Her close ties to Obama were formed in her pivotal role in the 2008 Democratic presidential primaries, when she endorsed him over then-favourite Hillary Clinton.
(Click on the post title above for more)
Comment: Lets hope she follows the lead of current Secretary of State John "F"ing Kerry and uses her more than adequate salary as Ambassador for some much needed botox treatments! If character lines like that are what you get when you're in the lucky sperm club, I'm glad I'm not a member!