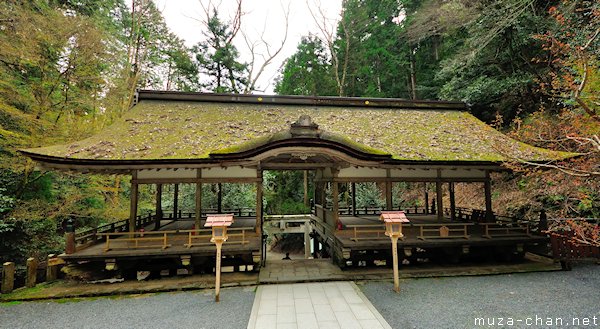 After speaking a few days ago about
traditional haiden architecture
, today I would like to share with you one of the most sumptuous and rarest styles, photographed while climbing
Mount Kurama
, at the Yuki Shrine.
Called
Wari-haiden
, "divided worship hall", this is a building made from two identical halls divided by a corridor and elegantly covered by a single roof. The roof has undulating gables (
karahafu
) over the corridor, which makes the building look like a
karamon
gate: a sanctuary and a gate, an amazing construction, rebuilt by Toyotomi Hideyori, the son of the famous
Toyotomi Hideyoshi
warlord.
Click on photo for higher resolution:
(Click on the post title above for more)